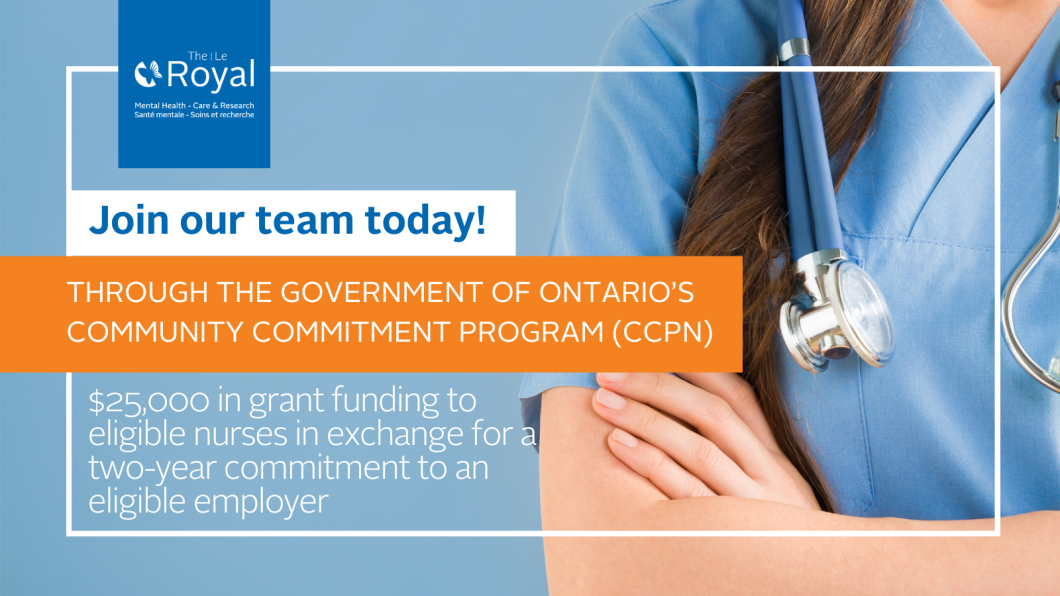 ATTENTION NURSES - you may be eligible for a signing bonus…of up to $25,000!

We are hiring registered nurses through the Government of Ontario's Community Commitment Program (CCPN) that provides $25,000 in grant funding to eligible nurses in exchange for a two-year commitment to an eligible employer.

Find out if you're eligible.  
Join Our Team at The Royal!
Welcome to The Royal — one of the National Capital Region's Top Employers for 2021 and Top 40 Research Hospitals in Canada in 2022.
The Royal is one of Canada's foremost mental health care and academic health science centres. Our mandate is simple: to get more people living with mental illness into recovery faster. This is at the core of everything we do, and it's driven by the passion and dedication of our employees. 
We have plenty of exciting opportunities across many areas of care and expertise. We have full-time and part-time opportunities available at the following campuses:
Royal Ottawa Mental Health Centre
Brockville Mental Health Centre
University of Ottawa Institute of Mental Health Research
There are also career opportunities with our Facilities Management Group, EllisDon. Click here to explore open positions.
Please check back soon if you don't see an opportunity you feel is suited for you at this time. We're always looking for exceptional candidates to become a part of our ever-expanding team!
Thank you so much for your interest in working with us at The Royal.  At The Royal, we strive to be an equitable and inclusive employer. Our commitment to equity is grounded in an institution-wide commitment to achieving a working, teaching, and learning environment that is free of discrimination and harassment. We encourage people from all backgrounds to apply to our positions.
We thank all applicants for their interest, however, only those selected for an interview will be contacted. Please inform us if you require accommodations during the recruitment process.
Please note:  All applicants for any vacancies at The Royal must be fully vaccinated to be considered for any positions.  Any new hires, prior to their first day of employment, will be required to provide proof that that have been fully vaccinated, or present supporting documentation of a valid exemption in accordance with the Ontario Human Rights Code.

Recruitment Fraud
It has come to our attention that some organizations are falsely claiming to accept applications on behalf of the Royal Ottawa Health Care Group (The Royal). The Royal, or any authorized organization that recruits for us, will never ask for money from you to review our job postings, to apply for a job, for obtaining work permits or visas, or for special courses.