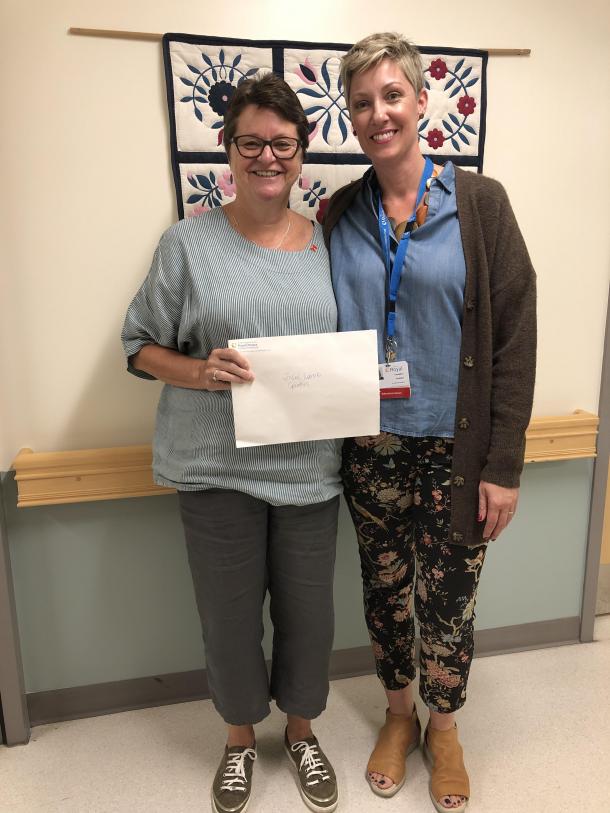 Patients and families express their gratitude for the quality care and support they receive at The Royal in a variety of ways, including financially by making a donation in honour of someone who has made a difference to them or someone in their lives. The Royal Angel Program provides grateful families and patients the opportunity to recognize staff at The Royal who deliver the utmost compassion, exceptional care and support. 
Josée Lavoie, a Social Worker in our Geriatric Psychiatry Program, has been named a Royal Angel five times since 2019.  For those of you who know Josée, this won't come as a surprise to you. She regularly goes above and beyond in helping our clients and their families from the moment they arrive at The Royal. 
"Josée represents a true role model in her role as social worker at The Royal," says one grateful family. "Her exceptional intuitive ability to communicate and support families is exemplary. She was a gift to our family demonstrating sincere compassion to our father who was an inpatient for many, many months. Thank you to an amazing woman who balances professionalism with love and compassion to the patients and families she serves. We are forever grateful to Josée!"
Josée says that working in geriatric psychiatry and being able to help patients and families, especially during what is often a challenging time, is a gift to her. "It has made me realize that when we grow older, we never really know what life will look like," she says. "I've seen so many different types of people from all walks of life. People come to us in need of reassurance that life will get better, and it is my honor to walk alongside them and make that journey easier."
Another grateful family expressed their gratitude to Josée for calling to check on them in the midst of their loved one's treatment. "Her joy and encouragement kept us going," said the family. "She is truly an angel." 
The Royal is fortunate to have Josée as part of our incredible team. "I have learned something new each and every day of my 14 years at the Royal," she says. "It's a privilege to work with patients, their families, and an amazing team."
To nominate a colleague for a Royal Angel, contact Heather Brown at Heather.Brown@theroyal.ca.