Ottawa is the nation's capital and the fourth largest urban region in Canada. Home to over 1.4 million people, 66 per cent of residents live in Ottawa with the rest in neighbouring municipalities. 
While English and French are widely spoken, Ottawa is a multicultural city with a growing immigrant population. 
Ottawa is a city of opportunity. Major industries include high tech, government, health, and education. Ottawa is home to renowned research centres, academic institutions, and major international companies. 
Ottawa has emerged as a cosmopolitan centre rich in opportunities to enjoy music, arts, sporting events, festivals, and the great outdoors. The city is situated along three major rivers and is close to nature, with many parks, recreational pathways, and beaches. The Rideau Canal, a UNESCO World Heritage site, is a world-famous attraction – it stretches 202 km from Kingston to Ottawa and is the oldest continuously operated canal in North America. Gatineau Park, the largest green space in the region, is located across the Ottawa River in the Outaouais region of Quebec and offers a beautiful setting for many recreational activities, all year long.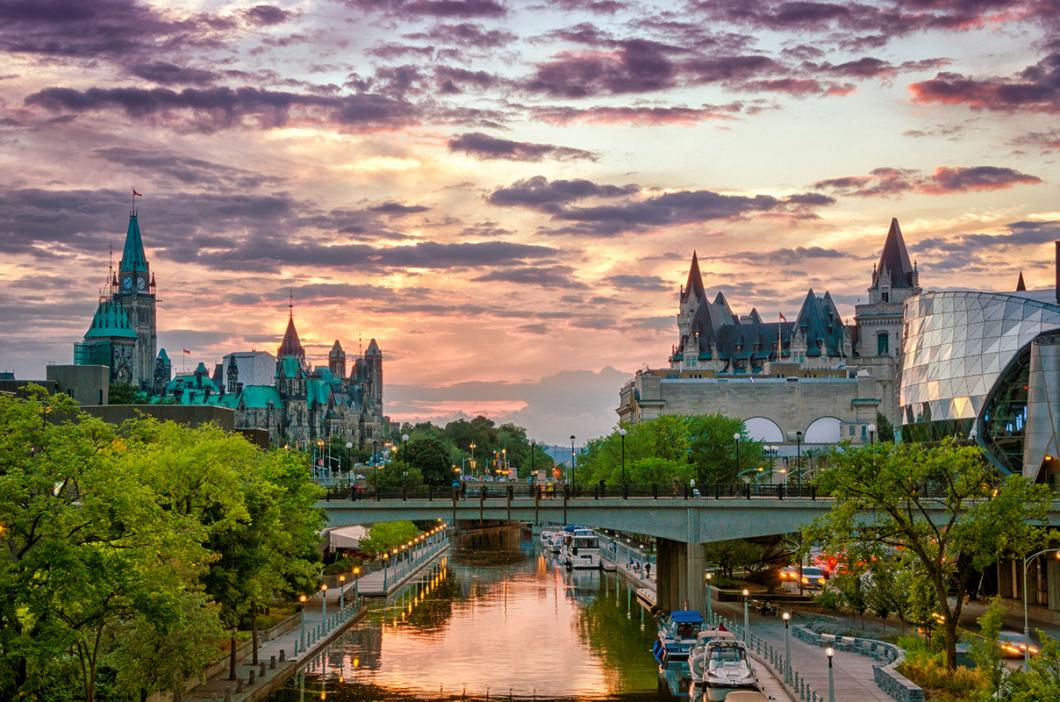 Read more about what makes Ottawa a great place to live at Ottawa.ca.
The Royal's head office, which is also its main site in Ottawa, is a state-of-the-art teaching and research hub. In addition to offices and research labs, this modern, 400,000 square foot facility includes 18 inpatient beds, plus 88 beds for recovery and long-term care at Royal Ottawa Place.
The Royal Ottawa Mental Health Centre is a therapeutic environment filled with natural light, peaceful courtyards to enhance well-being, and a soaring, sun-filled Winter Garden atrium for the enjoyment of clients, volunteers, staff and visitors alike.
On-site features of the main location include lounge areas with comfortable couches, tables, as well as large windows and skylights to let in an abundance of natural light. There is also a meditation/religious observance room and a library for professional reading or research. The library also features a section of popular books for loan. For their convenience, staff members have access to an on-site hair salon where prices are low. 
Lunch options are available at the Atrium Café, which offers specials several times a week, healthy choices and special dietary choices on a daily basis. The volunteer-run Winter Garden Café offers coffee/tea, sandwiches, soups, salads, bakery items and other snacks. All the money earned from the volunteer café goes back into programming for clients at The Royal. 
Employees can eat in the cafe, the Winter Garden, or outside on picnic tables and benches on the beautifully landscaped grounds.
All employees can access the onsite fitness facility free of charge. The fitness facility includes treadmills, stationary bikes, stair masters, elliptical machines, weights, a gymnasium (equipped for basketball, volleyball, dance classes, etc.), and change rooms with lockers and showers.
The fitness facility is shared with clients who also use it as part of their recreational programming. The Royal has a partnership with Goodlife Fitness, Anytime Fitness and YMCA/YWCA and offers discounted group rates at all their facilities for staff and their families. The Royal has access to online fitness videos including instructions and classes through Shepell's Lifeworks program. 
The Royal's Ottawa-based campus is at the confluence of cool and trendy neighbourhoods and is close to many amenities:
Five minutes from the Central Experimental Farm and the Canada Agriculture and Food Museum. There are many scenic walking, biking, and running trails in this area.
Ten minutes (or a 15-minute bike ride) from the Sir John A. Macdonald Parkway and its extensive biking and walking trails, the Kichi Sibi Winter Trail, as well as Westboro Beach.
Within a five minute drive of Dow's Lake, where the Canadian Tulip Festival and Winterlude Festival take place. It's the home of beautiful ornamental gardens, the Dominion Arboretum, and Fletcher Wildlife Garden. In the winter, Dow's Lake is cleared for skating. 
There are more than 10 recreation centres within a 5 km distance of The Royal in Ottawa including fitness facilities, tennis courts, swimming pools, activity fields, a fenced-in dog park, playgrounds etc. 
The Ottawa campus of The Royal is located on a main public transit route and is close to the 416 highway. It's close to popular neighbourhoods such as Little Italy and Westboro, and a wide variety of boutiques, coffee shops, restaurants, and services.