A new mural was recently unveiled at the Royal Ottawa Mental Health Centre. 
The mural, called "Enchanted Forest," was created by a group of clients with the support of recreation therapist Emma Scullion, occupational therapist Laura Grunder, and Alexis Boyle, curator, community access at the Ottawa Art Gallery (OAG). It is installed in two equal parts in a hallway on the second floor of The Royal where clients, staff, and visitors can pass by regularly.   
While The Royal and the OAG have a rich history of working together, this was the first client-created mural produced in collaboration between the two organizations.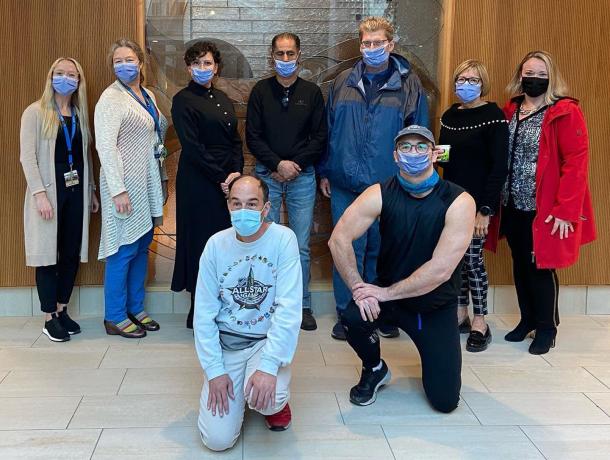 Staff and clients met on a weekly basis beginning in December 2021. Boyle, an artist and art educator, guided the group through the process from the initial brainstorming sessions to the application of the final daubs of paint.  
Coming into a hospital for treatment can be stressful for clients and families.  The creative team recognized this and wanted to use their art "to bring not only beauty, but a sense of calm," says Boyle. 
Described as "richly textured," "vibrant," and "fantastical," the general theme of the mural is one of transformation. 
Painting began mid-May 2022 and continued through August.
The finished work creates a feeling of an immersive stroll through a magical place, amid trees and plants that are familiar in shape yet fantastic in nature. The work extends to the ceiling but neither the tops nor the bottoms of the trees are visible, adding to the sense of place and proximity. 
A forest grove extends through the piece, which is darker on one side and grows brighter and more vivid as the viewer moves from left to right. Modeling paste enhances the texture of the bark, creating a tactile experience. At the halfway point, moonlight illuminates the forest and otherworldly ferns growing from the base. Leaves – or perhaps shooting stars – light up the night sky.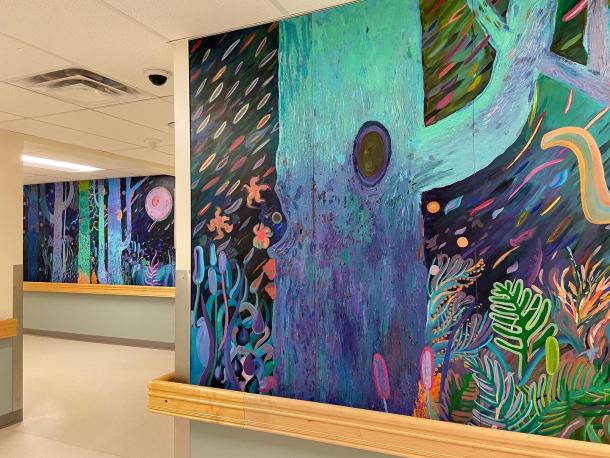 For some, "Enchanted Forest" might represent recovery, hope, or a journey to wellness, for others, it might remind them of a Technicolor fairytale world, or how a single day can change from dark to light in the space of a few hours. Boyle says there's no right or wrong way to see it. 
"Every interpretation of an artwork is valid and true," says Boyle. "There are so many ways to look at art and to feel it. Art is a mirror for your own experience. We need to value those experiences because everyone has something to contribute."
Boyle, whose main focus at the OAG is community outreach and building partnerships outside the gallery, has been using art as a tool for wellness and connection for over 15 years in various institutional, educational, and health settings in the community. 
As the saying goes, it's the journey that matters, not the destination. The same holds true for creative art projects. Boyle points out that while some of the clients involved in this project went into it with art-related experience and others had very little, everyone got something out of it ­– whether it's greater confidence with colour, a newfound ability to hold a brush, or seeing their name on the panel displayed next to the art. 
The state of flow that's achieved when we're doing something we love is not to be discounted, either.  
"When we're in a creative place our worries can be put on pause," says Boyle. "It does really ground you in the moment."
For Scullion, a recreation therapist, the mural project is an example of an activity that focuses on strengths to promote well-being and build confidence, and fits neatly within her preferred approach with her clients. 
"Recreation therapy is about using meaningful leisure activities as interventions to support client goals. Clients participated in a creative process that facilitated opportunities for self-expression and for the development of leisure skills. For some clients, art is healing and can foster emotional wellness," she says. 
"The clients created something amazing. This mural has transformed the hallway by creating a more vibrant, lively space and this can really positively influence an individual's wellness, recovery, and experience at The Royal."