Meaningful support for clients and families at The Royal 
The Royal Ottawa Mental Health Centre hosted an official opening of The Client and Family Resource Hub on May 2, 2023. The event featured presentations from key stakeholders, as well as a ribbon-cutting, and plaque unveiling.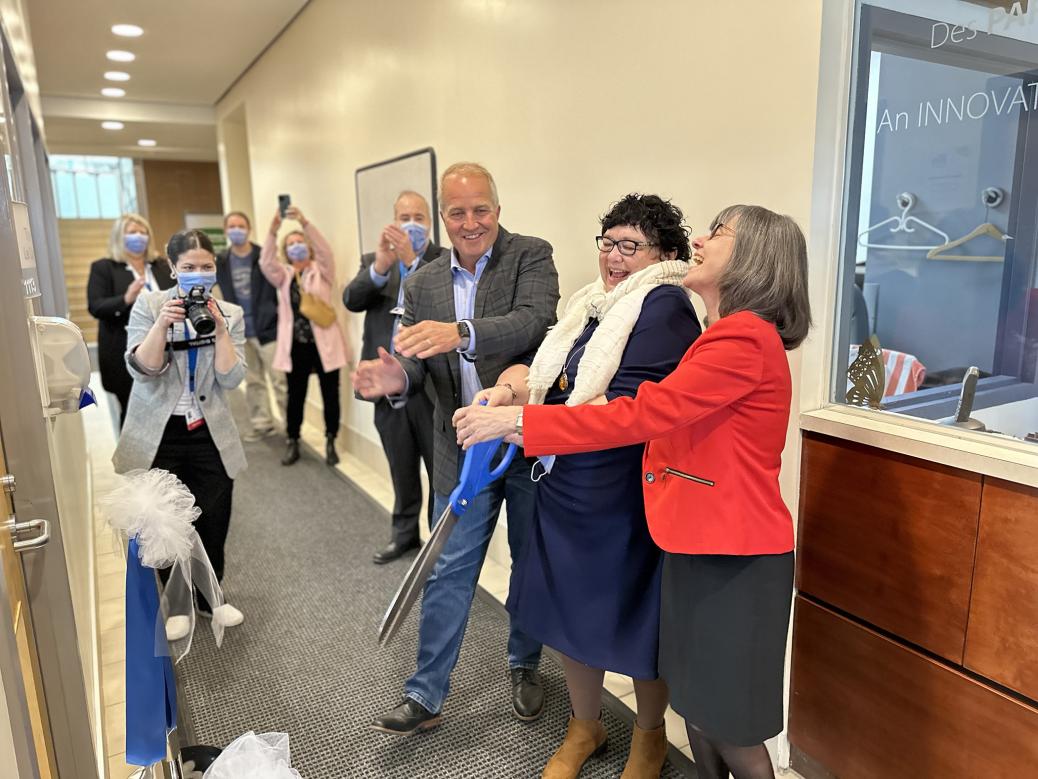 "The creation of The Hub has been in the works for nearly four years, with folks from across the organization coming together to turn this idea into a reality," said project leader Michèle Langlois, at the opening event.   
"The Hub will provide meaningful and much-needed support to clients and families, enriching their journey, providing hope, and increasing access. We encourage our staff and volunteers to learn more about The Hub as we live up to our strategic commitment and promise to serve and support the needs of our clients and families." 
Volunteers at The Hub – called concierges – are trained to answer client and family inquiries and provide meaningful support (for example, showing clients how to access and navigate the client portal, sharing information about research at The Royal, and information about peer support). 
It's also a place for clients and families to access computers, a printer, charging stations, a lounge area, a book and DVD sign-out service, and more.
The Hub is a useful resource for staff as well. Concierges can help staff members disseminate information to clients and family members or engage them as advisors. The Hub team can also support the implementation of peer support within a particular program or department.
The idea for The Hub was born out of conversations among members of the Client Advisory Council (CAC), who were keen to increase peer support services at The Royal. 
"The Hub started out as an idea four years ago and exploded into this vision of what we saw for clients and families," recalls Glenda O'Hara, CAC chair. 
When asked how she felt at the official launch, O'Hara described it as "emotional." 
"We're proud and so hopeful for what The Hub means for clients and families – that it will improve their journey through the system," says O'Hara. "And that somebody out in the community thought it was worthwhile enough to donate funds to see it happen…. it's just so fulfilling." 
O'Hara is grateful for Langlois' hard work and advocacy, and that of Kevin Patrick, a past member of the CAC who is now the resource hub and peer support supervisor. 
She encourages people to drop by or touch base to see what The Hub is all about. 
"It's a wonderful place for staff to refer clients and families," she says. "There's such pressure for family members to know what to do, and they have to work so hard to find the right place for their loved one. We're hoping this is going to help alleviate some of those problems."
The creation of The Hub would not have been possible without the philanthropic support of Johannes Ziebarth of Ziebarth Electrical Contractors Ltd. 
"Mental health challenges are a universal experience thatimpact all of us in some way," said Ziebarth at the launch event. "I hope that The Client and Family Resource Hub will provide individuals and families with comfort and support throughout their recovery. We are so lucky to have access to the specialized care that only The Royal can provide and The Hub will enhance their already significant impact within our community."
For more information about The Hub go to theroyal.ca/thehub.