This year, perhaps more than any other, has left its mark on health care. There is, however, one constant amid this turbulence, a desire to bring access, hope, and new possibilities to people with mental health and addictions needs.
In fact, Access, Hope and New Possibilities is the title given to The Royal's new organizational strategy. Officially unveiled at an online event on December 10, the strategy is a roadmap that will shape the future of The Royal and our community for many years to come.
"A strategy serves as a unifying light," says Joanne Bezzubetz, president and CEO of the Royal Ottawa Health Care Group. "The Royal is a complex organization and a strategic plan helps to push the organization towards one light – one vision – and identify our goals to achieve the vision." 
The strategy was developed in consultation with a broad group of people, including clients and families, community partners, physicians, and staff.  
Dr. Raj Bhatla, The Royal's psychiatrist-in-chief and chief of staff, says the further development of the Royal as an academic health science centre with robust integration of clients and families, has the potential to make a real difference. 
The following strategic priorities will frame the work of the organization in the next five years: 
Innovate and shape care to client and family needs 
Advance specialized care 
Connect care and services for a more accessible system 
Integrate research, education, practice, and lived expertise to improve client and family-oriented outcomes and experiences 
Advocate and partner for systemic equity 
Click here to view the strategy in its entirety.
Glenda O'Hara, chair of the Client Advisory Council, feels hopeful for the future of mental health and addiction services.
"I can already see a culture change that is happening from the top down at The Royal in the co-design of initiatives and inclusion of clients and families in everything that is undertaken."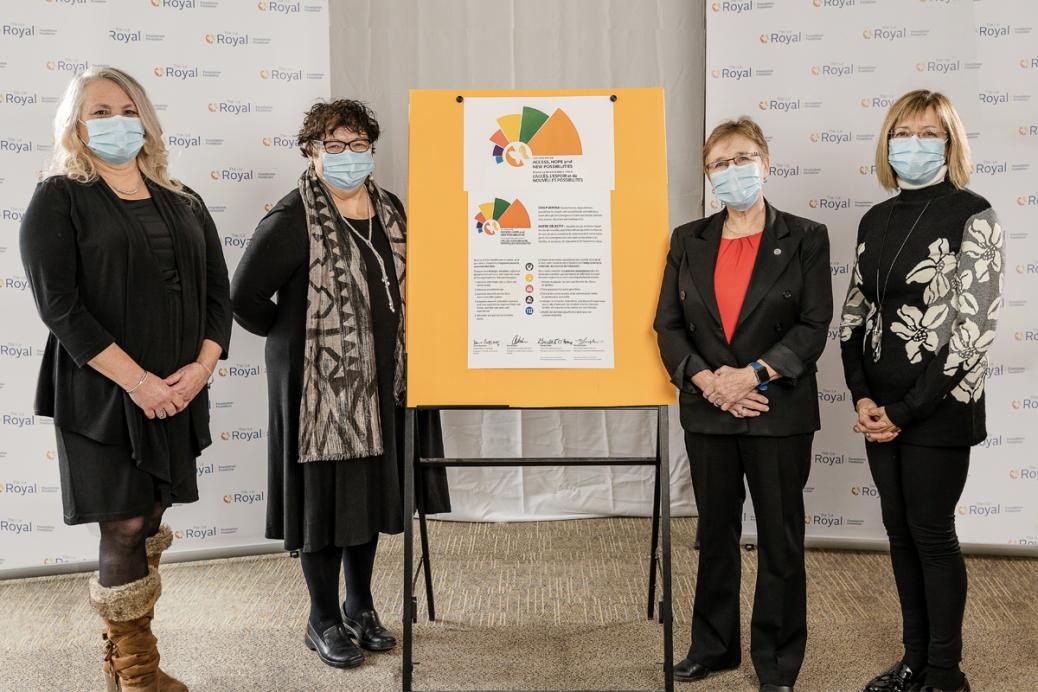 The future looks bright
Bezzubetz refers to The Royal's new strategy as the beginning of a five-year conversation, one that will shift and evolve over time, especially with the advent of new technologies. 
The pandemic accelerated a rise in virtual care, for example, but there are other exciting innovations around the corner. For example, self-management tools and apps.  
"There are a lot of possibilities," says Bezzubetz. "For the first time we are embracing a digital health strategy. That opens the door to things like Artificial Intelligence. We're talking about how to integrate AI into the kind of care model we provide."
"It's a whole new world of how we interact with people who are looking for help, and what that means for us as well. So it's really stretching the whole continuum of what we do in ways that we're just starting to find out about right now." 
The role of research and partnerships
Bezzubetz is particularly enthusiastic about strengthening the integration of care and research. This surfaced early in the consultation progress and is now enshrined in The Royal's strategy. One way to do this, for example, is to ensure care teams include clients, families, clinicians, researchers, and program leaders working together to explore questions in research and care. 
"We must continue to advance the knowledge and the science and the evidence around what the best way is to care for people," says Bezzubetz. "It's a game-changer is for us to have more clinicians that do research while they're providing care."
Bhatla says the new strategy encourages the organization to explore and understand how new treatments can benefit The Royal's clientele and community, whether it's in mental health, addictions, or other areas of endeavour.  
"There will of course be areas where we're breaking new ground," he says. "I believe there will be aspects of research that will make a difference, perhaps not always immediately, but will bear fruit later on and be truly inspirational. Our researchers are creative, their ideas are unique and potentially transformational."  
And much as the plan is about connected, expert care that considers the full spectrum of human needs, it is also about broadening partnerships. 
In the new strategy, The Royal is reinforcing a "shoulder to shoulder" culture by creating and growing collaborations in the community. Bhatla says this opens the door to closer relationships with The Royal's academic partners. He is looking forward to working with partners to serve our senior population, for example.
"As a fully integrated academic health science centre, I think we have tremendous synergies in being able to serve seniors while working more closely with the universities and Bruyère Continuing Care," he says. 
Of course, there is more work to come. The next step in the process is to develop operational plans, and staff will work together to develop specific departmental objectives. As Bhatla points out: "the key to any strategic plan is the execution, it's not the plan itself. The plan is the roadmap, but the roadmap only points to a destination. It's the journey that matters."    
Subscribe to our newsletter for more stories about hope, access, and new possibilities at The Royal.