Algonquin College has access to a suite of new mental health resources, thanks to a new partnership with The Royal. 
Officially announced at an event at Algonquin on October 10, World Mental Health Day, the new partnership paves a pathway for students to connect with clinical staff at The Royal via state-of-the-art telemedicine technology. College staff will also be able to take advantage of new learning and professional development opportunities.  
The event brought together staff and students from Algonquin and staff from The Royal, and featured a keynote speech by Dr. Gail Beck, the clinical director of youth psychiatry at The Royal and member of the Algonquin College board of governors.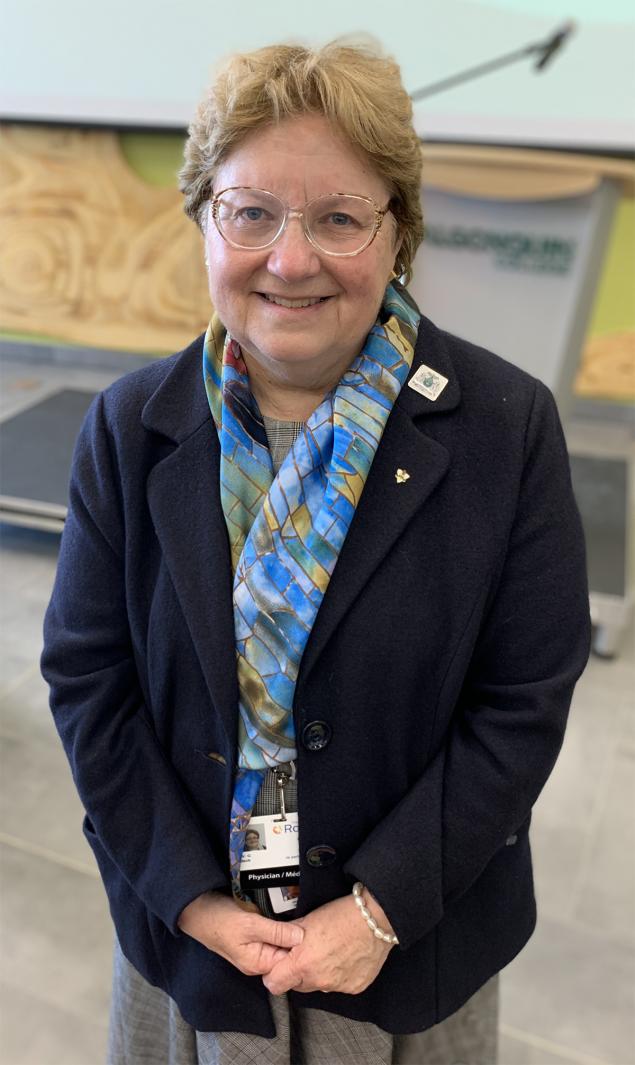 "This is the beginning of an important initiative for youth in this region and I cannot wait to see the impact," said Beck. "The impact will not be additive, it will be multiplied."
Dr. Susan Farrell, the vice president of patient services at The Royal, described the partnership – which was years in the making – as "innovative and multi-faceted," which will support students in a number of different ways.  
"Working in collaboration and leveraging telemedicine technology, we are creating virtual mental health services that fit easily into students' busy lives – both on and off campus – to provide help when and where it is needed," said Farrell.
The partnership also builds the capacity of the health team at Algonquin. An eight-part education series designed to share knowledge around some of the most urgent issues facing students, such as eating disorders, anxiety, and substance abuse, will take place during the 2019-2020 school year. It also opens up the doors to IASP (Increased Access to Structured Therapy), through The Royal, a talk therapy program that is funded by the Government of Ontario and focuses on practical skills and strategies to manage mental health issues.  
"This partnership is about expanding access to care," said Sarah Joynt, the telemedicine business development coordinator at The Royal. "A greater number of students will get specialized care." 
The telemedicine clinics were originally to take place once a week during the month of September. "We've already outgrown that," said Joynt, who added that the program was designed to be expanded. "In October we're having six clinics. November we have eight clinics scheduled." 
"The need is massive." 
Delivering care to clients via telemedicine is exciting and innovative, but it's not entirely new. The Royal has been using telemedicine to connect clinicians and clients in Ottawa and beyond – sometimes far beyond – since 2002. It's proven to be an efficient and effective way to deliver mental health care to individuals when and where they need it.  
Joshua Kellar is an Algonquin student who shared his story at the launch event and spoke about the importance for mental health services for students. 
"Under the pressure of demanding course loads, students like me can easily find themselves falling back into depression, addiction, and self-harm, making every day a battle to stay the course," said Kellar, who is in the social service worker program and will be graduating next year. 
"I honestly would not have succeeded here without the mental health support I found once I arrived," he said. 
If students at Algonquin need mental health services, they begin with an initial "walk-in" consultation with a counsellor. Depending on the need, the counsellor may recommend web resources, workshops, group or individual sessions, or a referral to treatment programs in the community. The ability to speak with clinicians at The Royal via telemedicine represents a new level of care for individuals who need specialized mental health care, and given the technology, it could take place over mobile phone at home or via iPad in a dorm room.
The technical infrastructure behind the telemedicine sessions is provided by the Ontario Telemedicine Network (OTN), an organization that connects thousands of patients across the province to health care providers via secure and private networks. 
The first consultations via telemedicine between clinicians at The Royal and students from Algonquin took place in early September.
"Our aim is to help people to manage their illness while living their lives, rather than organizing their lives around getting into a hospital," said Farrell. "Partnerships and collaboration are key to this. We are part of a system that thrives when we work together."