When is a fence not a fence? It sounds like the beginning of a riddle but it's no laughing matter for the clients, families, and staff at the Brockville Mental Health Centre (BMHC). 
Clients and staff are applauding the removal of a massive segment of security fencing that was removed from the perimeter of the Forensic Treatment Unit (FTU).
For clients and families who visit the FTU for the first time, the sight of the security fence can be terrifying, says Mike Fisher, a client at BMHC who is also a member of the Client Advisory Council.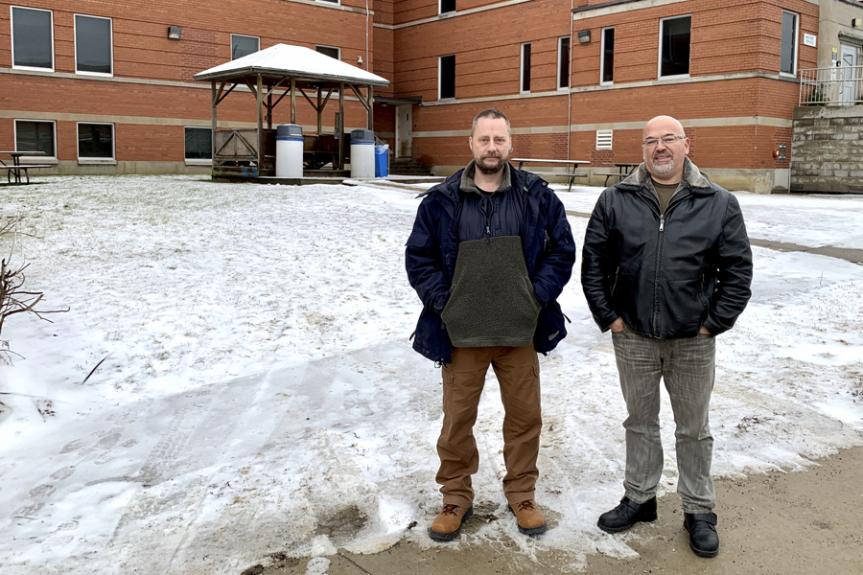 "When clients and families come to the hospital the first thing they'd see is this barbed-wire fence and a big gate. It was oppressive. It was brutal. Scary."
The forensic mental health system treats individuals who have come into contact with the law as a result of a mental disorder. As patients respond to treatment, their risk of re-offending diminishes. 
According to Michael Whalen, an advanced practice clinician in the forensics program at BMHC, it's important to understand that the security risk at the FTU is quite low. 
The security fencing was something the FTU reluctantly inherited, and was built for another purpose entirely. It's unnecessary and never used, but to fully understand the history of the unwanted fence requires a brief step back in time. 
Whalen estimates it was installed over a dozen years ago as part of a redevelopment plan supported that at the time included a retrofit of what is now the Forensic Treatment Unit building in order to create a secure assessment unit. The project evolved in a different direction but the fence remained. 
"So we were moved here into a building that was retrofit for correctional services," says Whalen. He points to the office doors, which are heavy, steel, and fireproof. "They are over the top," he laughs. "And this is bulletproof glass," he says, pointing to his office window. "It's inappropriate for what we need. We don't have that high of risk individuals in here."
"We came into a building that wasn't retrofitted for our needs. We just took it on because it was available and better than what we had," explains Whalen, who describes an old FTU with bars on the windows and no air conditioning, and wards where curtains provided the only privacy for residents – even the long term ones.
"It was a bunch of voices saying the same thing, and then it happened. For years our patients have been telling us it's ugly," says Whalen. "As an individual employee you're kinda like: 'Jeez, it is ugly but what can I do?'"
The heavy-duty security fencing consisted of thick wire supported by steel beams that curved inward to form a dome. Parts of it – including a gate that, in the end, always stayed open – were topped with barbed wire. 
"It was like this big metal cage that became the only gathering place for our clients," says Whalen.
Clients and families petitioned for it to be removed. Last year, as Fisher puts it, everybody finally picked up the metaphorical rope and started pulling in the same direction.  
"It was a bunch of voices saying the same thing, and then it happened. For years our patients have been telling us it's ugly," says Whalen. "As an individual employee you're kinda like: 'Jeez, it is ugly but what can I do?'" 
Not all of the fencing was removed. Some safeguards an area for individuals who are in custody and awaiting assessment. One part of the fence that was removed included the gate. The second had sectioned off a grassy quad with a seating area that was regularly used as an outdoor break space by clients and staff. It was supposed to be a place to relax but many people perceived this space to be particularly oppressive.
"It didn't look like a hospital," reflects Fisher. "It's nice to see open spaces – it's not meant to be a detention centre. And it's been really great that the board saw all that, and that they made those changes. Brilliant." 
The fencing was removed in the fall of 2019. 
"It's like a breath of fresh air," says Fisher. "It's kinda weird, it's just some wire, but it's like a weight has been lifted off a lot of the clients."
Other clients had similarly positive feedback, but so did the staff members. "For the staff it's been nice, and walking in every day and not feel like you are walking into a prison," says Whalen. Fisher jumps in: "It's kind of a stress reliever." Whalen agrees: "You don't feel so on edge, and it's because the fence is down."
The Client Advisory Council in Brockville is hoping to recruit more people to share their input.  For Whalen, the removal of the fence is a great example of clients and families coming together with senior management to make positive changes. Fisher is pleased the fence is gone, but more importantly, he feels like he was heard. 
"It's just a little change, but it shows initiative and hopefully constructive things to come," he says.