Conversations at The Royal, presented by TD, is a free public education series that offers a thought-provoking insight into mental health issues that are important to our community. The lectures - held almost every month - are delivered by mental health researchers, clinicians and clients at The Royal.
To view the latest Conversations event, click on the video below.
Season 2 of Conversations at The Royal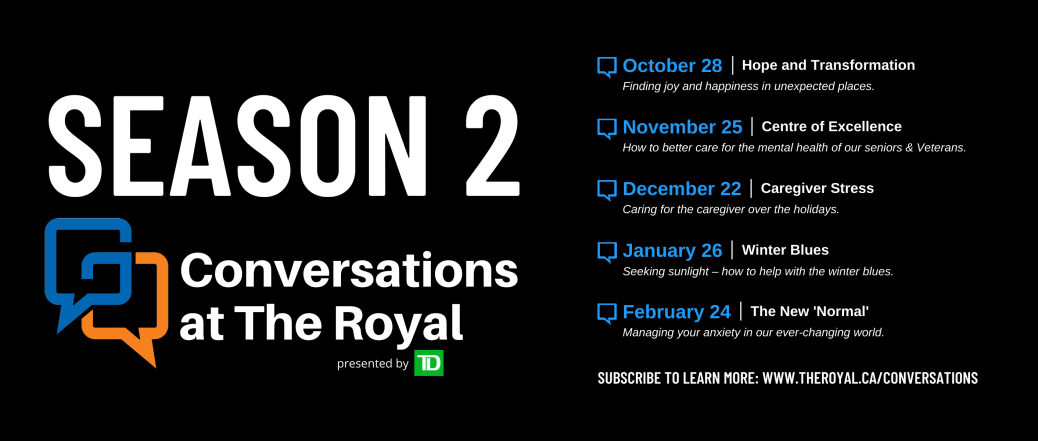 Sign up for our newsletter to stay informed about upcoming events at The Royal.
2021 Past Conversations

January 28, 2021
CALM within the storm: Coping with Stress and Building Resiliency during the COVID-19 pandemic


Additional resources:
Presentation slides
C.A.L.M. Infographic

---

February 18, 2021
Exhale the Kids are Alright

 

---

March 3, 2021
On International Women's Week – let's raise some help for each other and ourselves!

---

April 22, 2021
Dynamic Dads - Tips for Being an Emotionally Healthy Father with Mark Borowiecki and Ian Mendes

May 26, 2021
Why it's important to sweat our way to better mental health with Dr. Vera Etches, Dr. Natalia Jaworska, and Tracy Shouldice

2020 Past Conversations

December 3, 2020
Learning from the Experiences of Public Safety Personnel
 

2019 Past Conversations

2018 Past Conversations

2017 Past Conversations

2016 Past Conversations

2015 Past Conversations