The annual Young Researcher's Conference has a new name!
The Neuroscience and Mental Health Trainee Network (NeuMe-TN) Conference is a one-day mental health research conference organized by young researchers, for young researchers, mental health professionals, and anyone else interested in neuroscience and mental health research and care.

This year's conference will be held on May 8, 2020 at The Royal Ottawa Mental Health Centre (1145 Carling Avenue) and will feature the keynote lecturer Dr. Krystal.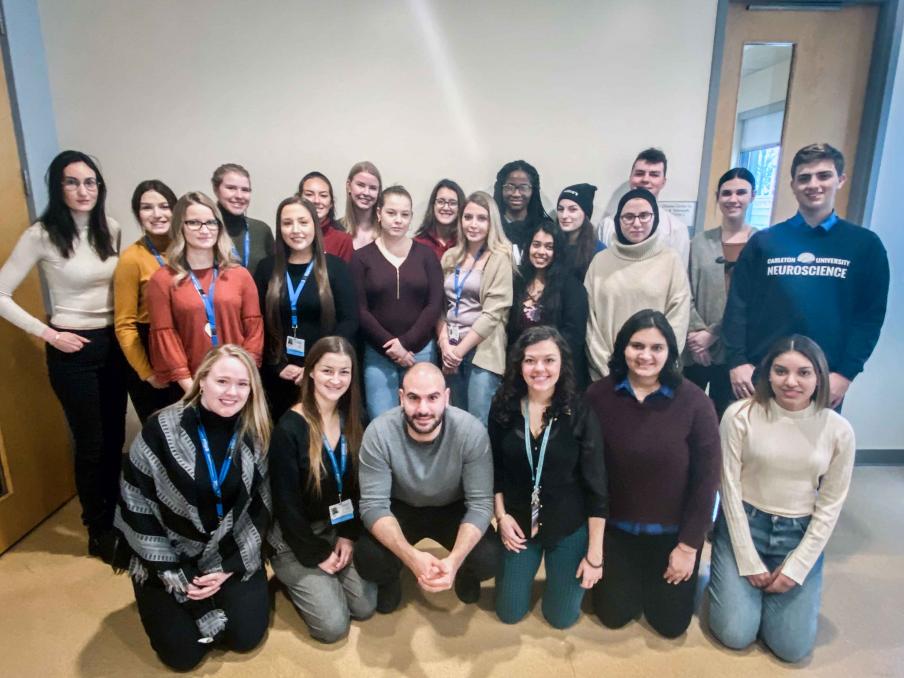 2020 NEUROSCIENCE & MENTAL HEALTH TRAINEE NETWORK PLANNING COMMITTEE

The Neuroscience & Mental Health Trainee Network (NeuMe-TN) Planning Committee at The Royal's Institute of Mental Health Research (IMHR) is a group of students and early-career researchers dedicated to enhancing opportunities for networking, collaborations, research, education and training for individuals working in the field of mental health. Their signature event is the annual NeuMe-TN Conference (formerly the Young Researchers Conference). 

Rami Hamati, Co-Chair & Logistics Director
Affiliation(s): Department of Neuroscience, University of Ottawa; The Royal's Institute of Mental Health Research
Research Interests: Neural correlates of the antidepressant and antipsychotic response

Ana Santos, Co-Chair & Workshop Co-Manager
Affiliation(s): Department of Neuroscience, Carleton University; The Royal's Institute of Mental Health Research
Research Interests: Diet and psycho-social moderators of immune and microbiota changes in depression and anxiety

Ashley Nixon, Communications Director
Affiliation(s): Department of Psychology, University of Ottawa, The Royal's Institute of Mental Health Research
Research Interests: The interplay between sleep, light and mood disorders

Brooke Carroll, Scientific Programming
Affiliation(s): The Royal's Institute of Mental Health Research
Research Interests: Neurophysiological techniques for treatment response prediction and novel treatment options for depression and anxiety

Eitienne Lefebvre, Finance Co-Director
Affiliation(s): Department of Neuroscience; Carleton University
Research Interests: The effects of resting state networks on memory functions in a variety of neuropsychiatric disorders

Arunima Roy, Finance Co-Director

Alexandra Therond, Workshop Co-Manager
Affiliation(s): Department of Psychology, Carleton University; The Royal's Institute of Mental Health Research
Research Interests: Assessing cognitive deficits in depression and helping develop clinical intervention trials of novel treatments to improve cognition of patients with this disorder

Amanda Van Geel
Affiliation(s): Department of Neuroscience, Carleton University; The Royal's Institute of Mental Health Research
Research Interests: Inflammatory biomarkers in mood disorders

Zacharie Saint-Georges
Affiliation(s): Faculty of Medicine, University of Ottawa; The Royal's Institute of Mental Health Research
Research Interests: Imaging and Quantification of Vesicular Acetylcholine Transporter Density in the Heart

Jessica Drodge
Affiliation(s): Department of Neuroscience, University of Ottawa
Research Interests: Exploring neuroplasticity, cortical thickness and cognitive performance (i.e., memory) through a combined use of TMS, EEG, and MRI

Cecelia Shvetz
Affiliation(s): The Royal's Institute of Mental Health Research
Research Interests: The relationship between cholinergic neurotransmission and cognitive impairments in schizophrenia

For more information: yrf.conference@gmail.com