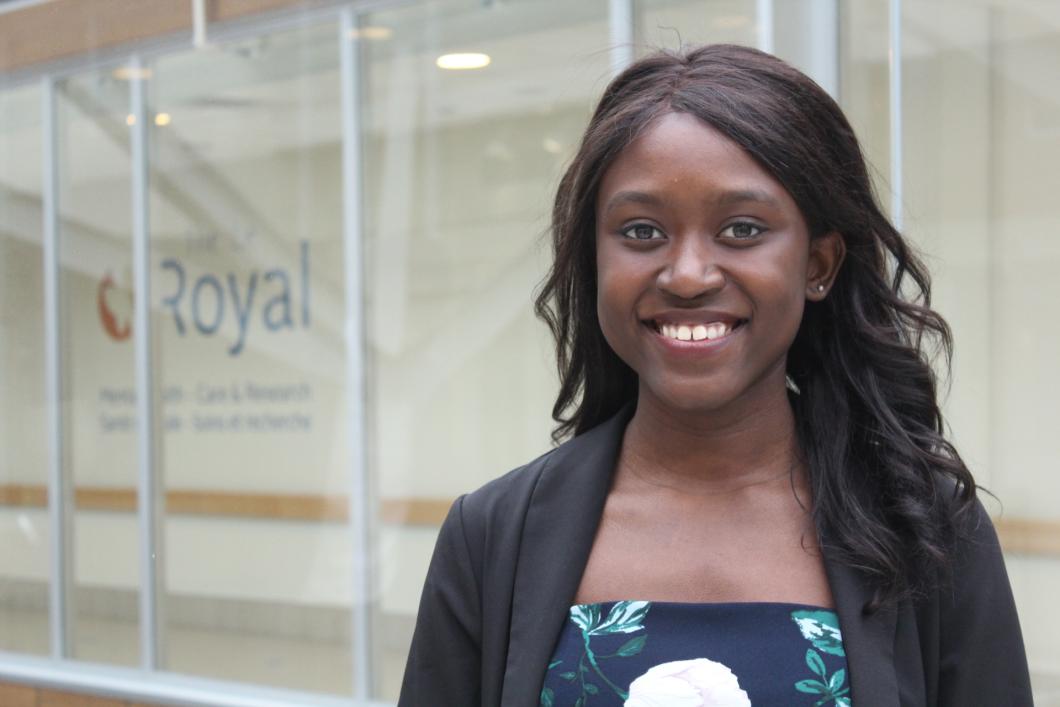 Patricia Burhunduli has always been fascinated with the brain, which made her decision to pursue neuroscience at the graduate level an obvious one.
It wasn't until she began interacting directly with individuals with depression and suicidal ideation as part of her thesis research, however, that she truly started to realize the impact her work could ultimately have on individual's lives.
"You hear about depression a lot – but it's one thing to hear about it, and a completely different thing to sit in a room and hear someone tell you their personal story about depression or suicidal ideation," she said.
"These interactions have really helped me to see the real-life value that my research can have."
Patricia is currently pursuing her M.Sc. in Neuroscience at the University of Ottawa, and is conducting her graduate research at the IMHR's Mood Disorders Research Unit, under the supervision of Dr. Pierre Blier and Dr. Jennifer Phillips.
Her work is focused on understanding the biological underpinnings of depression and suicide, using magnetic resonance imaging (MRI), and by assessing the involvement of inflammatory markers and clinical risk factors (i.e. hopelessness, impulsivity).
Through her multi-dimensional study – which is among the first of its kind to combine imaging data on suicide with inflammation and clinical risk factors – Patricia hopes to uncover valuable biomarkers of suicidal ideation in patients with treatment-resistant depression, and identify those at highest risk.
"Depression is so complex and difficult to understand, and there many factors that can lead to depression and suicidal ideation," she said.
"This study is a stepping stone towards improving our ability to identify patients with major depressive disorder who are highest risk of suicide, which can open the doors for improved treatment and prevention measures."
She said that the overarching goal of her research program is to contribute to the reduction of deaths by suicide, and the pain and suffering left in its wake.
"When you think about the statistics – that 4,000 people die from suicide each year in Canada – that's a huge number, but I do believe that with research, it is possible to bring that number down," said Patricia.
"Listening to patient stories and hearing that they also see the value of research reminds me why I'm doing what I'm doing – and it's the hope that research can help change people's lives that really keeps me motivated."
Patricia plans to use the funds received from the IMHR Graduate Student Research award to travel to Chicago, Illinois in May 2019 to attend the Society of Biological Psychiatry's annual scientific conference.
Her longer-term career goal is to become a clinician-scientist, and merge her passion for research with her desire to directly improve treatments for patients.
Read more about the 2018 IMHR Graduate Student Research Award winners.
The IMHR Graduate Student Research Award is generously funded by The Jennie James Depression Research Fund, The Allison Lees Depression Research Fund and The Louise Helen Waddington Research Fund, through The Royal Ottawa Foundation for Mental Health.
The recipients for 2018 include Patricia Burhunduli, Michael Iro and Emma Lynn.