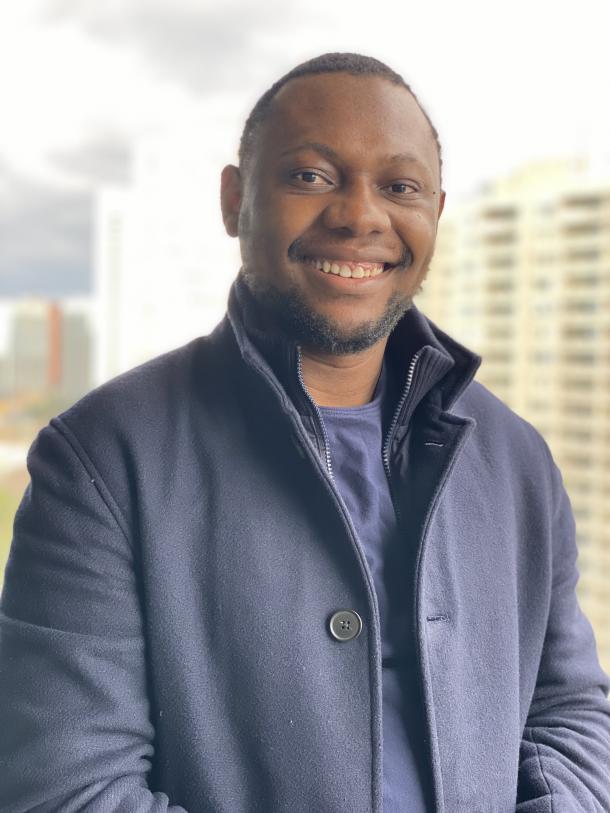 Chijindu Ukagwu, a registered nurse at the Brockville Mental Health Centre, is one of this year's recipients of the Registered Nurses Foundation of Ontario's Nurse Innovator's Award. His proposal was one of four winning projects announced at a virtual reception on November 17, 2021. 
Ukagwu was awarded $35,000 towards the development of a next-generation mental health app called mhapy, which is designed to monitor a user's mental health and notify care partners if there's a decline.  
The idea for mhapy – which stands for Mental Health Accountability Project – came to Ukagwu during his nursing rounds, when he realized he was having the same conversations with different clients. (For example, during intake appointments the same questions are asked of all new clients.) 
"That sparked in my mind the idea that I could have a chatbot have this kind of conversation since it's really the same thing over and over again," says Ukagwu.
A chatbot is a software application that simulates human conversation online in text format. They're commonly used to answer simple queries, for example, in customer service. In health care, chatbots are used for tasks such as logging patient information, symptom tracking, medical record keeping, and monitoring patient satisfaction. In mental health, chatbots have been designed to offer support and coping techniques but until recently have been limited in scope because of their inability to deviate from scripted conversations. 
Ukagwu's work is focused on a new generation chatbot that incorporates Artificial Intelligence (AI) and allows the user to lead the conversation in any direction. This can be achieved through Generative Pre-trained Transformer 3 (GPT-3) an "autoregressive language model that uses deep learning to produce human-like text." According to some experts, the quality of the text generated by GPT-3 is so high that it can be difficult to distinguish whether it's written by a human or not. 
For the end user, GPT-3 results in better quality, more natural conversations, and even jokes. Chatbots that use this technology can learn and understand. This understanding – billions of possible responses to billions of statements – is the foundation of "real" conversation. 
Ukagwu's vision for mhapy is for its users to be able to carry on a conversation about almost anything with mhapy's chatbot, Ruby. It is through these conversations that the AI is able to monitor and assess a user's mental health. This is done by establishing a baseline for the user and checking for significant deviations from the baseline. If this happens, the app can notify the health care team or the user's chosen support group (Ukagwu calls them "accountability partners") who are identified by the user ahead of time. 
Of course, mental health can't easily be monitored if there aren't any conversations to draw from, so if a user doesn't check in, Ruby will reach out with an easy conversation opener ("How are you feeling today?" or "Did you sleep well last night?") to encourage dialogue. 
Ukagwu points out that these types of casual chats, even with an AI, can help people feel less lonely and isolated. It also bridges a gap between appointments and helps ensure action is taken earlier if needed.
"Mental health is dynamic, it changes from day to day. There are undulations in mental health and sometimes there's just nobody to talk to," he says.   
Ukagwu ultimately sees mhapy as a free app for anyone to download and use but also one that's prescribed by doctors and mental health professionals to support their patients' wellness and make it easier for them to get help when they need it. 
The app is currently in the prototype stage. Ukagwu is currently hiring a machine learning engineer to build the AI system, and recruiting mental health nurses to contribute to the training of the chatbot. His goal is to have a fully working app by April 2022 and will be partnering with his colleagues at the Forensic Treatment Unit (FTU) in Brockville to test and validate mhapy. To learn more about mhapy, click here.