Royal Ottawa Place received a one-of-a-kind donation this spring – a dignity blanket. 
 
This hand-stitched, queen-sized quilt is a symbol of love, care, and compassion that is draped over recently deceased residents before they are moved from their room. It takes the place of a plain black cloth that is commonly used by funeral homes when a resident has passed.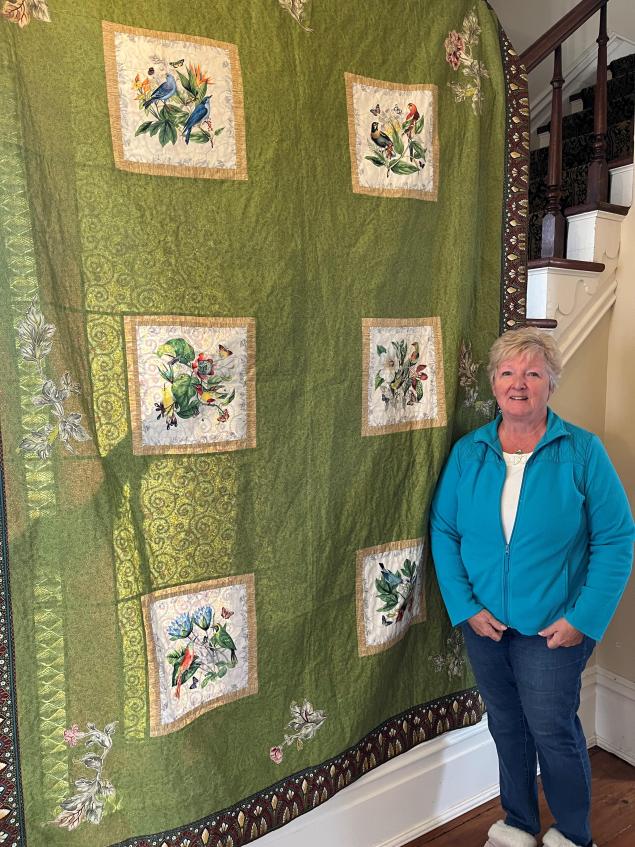 It shows respect for the individual and adds meaningful ceremony to an emotional time, both for the staff and fellow residents.
Sarah Anderson is the director of care at Royal Ottawa Place (ROP), a long-term care home located on the grounds of the Royal Ottawa Mental Health Centre.
The blanket was made by Danielle Eakins, an expert quilter in Muskoka, Ontario. "I knew I was making something very meaningful and special," says Eakins. 
Anderson was moved to tears when she first saw it. "I was just so flabbergasted. Danielle truly understands what this means for us," describes Anderson.  
It was made by hand, specifically for this purpose; every stitch imbued with care and meaning, not just for the departed, but for those who remain behind. 
The hope is that the quilt will remind residents that they are valuable members of their community.
"It's uplifting, I think," says Anderson. "This blanket is a symbol of how much our residents mean to us. They deserve to be covered in something that's got love in it and is beautiful to look at, something that we've taken the time to put on them because they meant a great deal to us." 
"I want people to know they are important, from the minute they walk through into our building to the moment that they leave, even though they may not feel that way all the time, living in long-term care."
ROP serves a unique population. The long-term care home provides specialized care for adults with stable mental illness or physical limitations, and others who may benefit from a supportive environment. With an average age of 65, ROP has a younger population than most long-term care homes. 
For many residents, ROP isn't just their home, the staff and residents are their only family.  
The dignity blanket was one of a few 'nice-to-haves' on Anderson's wish list. Through various grants and awards, Anderson and her colleagues have purchased items to bring extra comfort for residents who come to need palliative care, such as a folding bed for family members who need to stay close by. Other items on their list include a second blanket warmer and an end-of-life kit with items such as fuzzy blankets, warm socks, and colouring books to make those final moments as comfortable as possible, both for the resident and their loved ones.
Anderson is also keen to offer her staff new development opportunities to enhance their knowledge and gain new insights on how to handle the unique challenges that come with palliative care.
 
"Assessing and diagnosing the need for palliative care is really important," says Anderson. "Palliation and end-of-life is a very challenging subject in Western culture and we want to be able to have more conversations about palliation with people while they're living so that we know what their wishes are when they cannot speak for themselves." 
Whether it's through newfound knowledge, warm socks, or a dignity blanket, they're all different ways ROP staff show residents that their lives matter. 
"These are our final acts of caring as they leave us," says Anderson. "Our final way of saying goodbye."