The Royal is part of a team of community partners who are delivering health services to Ottawa residents whose needs are often not recognized or understood.
The Ottawa Inner City Mobile Health Clinic powered by TELUS Health is a part of the Telus "Health for Good" initiative, which funds mobile health clinics in major cities across the country. Staffed by medical professionals, they provide immediate, compassionate, and free health care for disadvantaged Canadians. 
The new mobile health clinic was officially launched at a special event on January 14, 2020.
"As someone who has been working in community mental health for more than twenty years, I can tell you unequivocally that this initiative is going to have a significant and positive impact on individuals in our city whose needs are often not recognized or understood. That makes this a very big day for Ottawa," said Dr. Susan Farrell, vice president of patient care services and community mental health at The Royal.
The mobile health clinic is an initiative driven by collaboration. The Royal is partnered with Ottawa Inner City Health, Sandy Hill Community Health Centre, Somerset West Community Health Centre, Ottawa Public Health, and TELUS Health.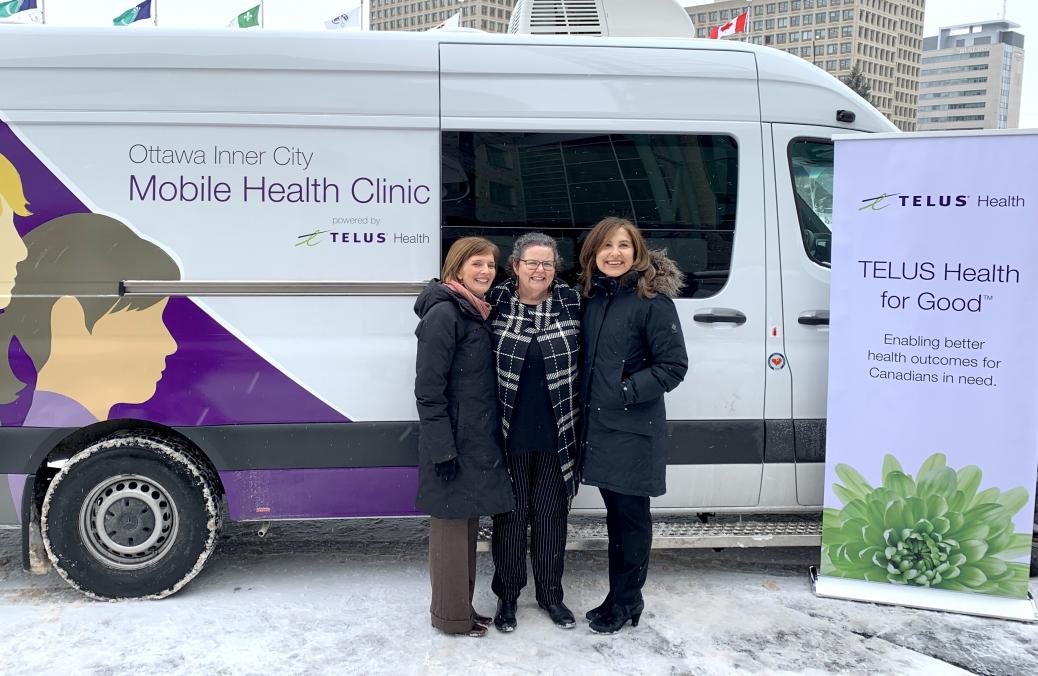 It's important to note that this collaboration included more than just the organizations who provide these important services, but also the individuals who will use them. 
"Service users provided ideas and input at every step of the process to create a custom-designed clinic that meets individuals where they are with the support that they need," said Farrell. 
The mobile clinic will make scheduled stops at Ottawa's four supervised consumption sites five days a week and will be staffed by a nurse practitioner, a mental health nurse and a psychiatrist, as well as peers with lived experience. Peers play an essential role in linking individuals who need care to the mobile health clinic. 
Improved digital access will allow health care professionals to share information securely, and electronic medical records will provide a health record for each patient, even if they don't have a health card. 
The mobile clinic is designed to remove some of the barriers associated with receiving medical care. Some individuals do not feel comfortable walking into a walk-in clinic or traditional doctor's office. 
"The challenges of reaching our homeless citizens are complex and must be met with urgency and compassion," said Jill Schnarr, the vice president of corporate citizenship and communications at Telus. "By bringing health care directly to communities, and people who are often underserved, we are reminding our fellow Canadians that they are not alone, that they are cared for, and that there is a promise of a friendlier future for everyone in Canada."
Matthew "Matty" Gaudet is an overdose prevention and peer worker with Ottawa Inner City Health. Gaudet's firsthand experience with substance use and homelessness gives him a unique perspective on the usefulness of the mobile health clinic. 
"It's really going to change the future of a lot of people," said Gaudet. At the unveiling event, he shared a personal story that illustrated how health care, given freely without judgement, saves lives. 
"I remember I went to one of my friend's funerals and the night before he died he had called me asking for help, and I told him 'I can't help you while you have drugs in your system. You have to call me back when you're clean," recalled Gaudet. "That was my last conversation with him. I went to his funeral shortly after and I watched his kid stand there, his eight-year-old kid asking all of us why his dad had to go. And I was thinking there has to be another way."
"I'm really excited to be on the van to see what we can do… with the help of Telus and our community partners, to be able to bring more hope to our clients, because that's what I was missing when I was out there."