Nearly 160 Algonquin College students, staff, faculty, and community members attended Let's Keep Talking About Your Mental Health, a special event that took place on January 25, Bell Let's Talk Day.
Presented in partnership with The Royal and Do it For Daron (DIFD), and emceed by CTV Ottawa's Stefan Keyes, this free, 60-minute in-person and virtual experience featured short presentations by three experts at The Royal and a panel discussion about some of the most pressing issues faced by young people today: depression and anxiety, substance use, and suicide risk.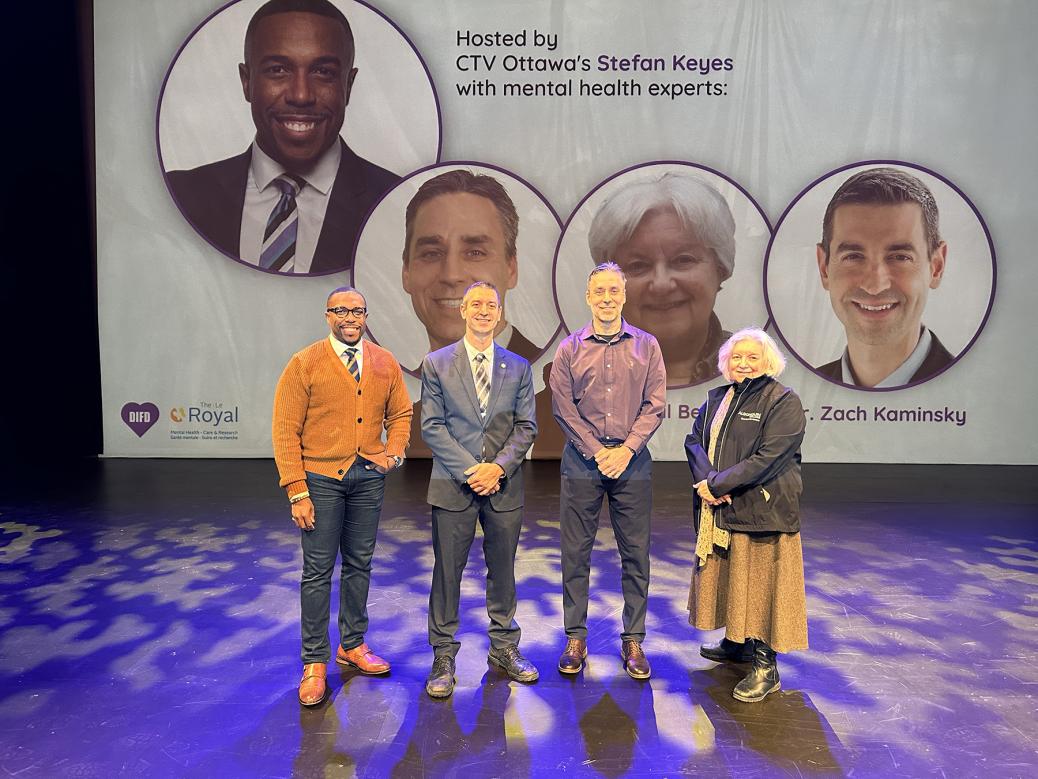 The first speaker of the afternoon was Dr. Gail Beck, interim psychiatrist-in-chief and chief of staff at the Royal Ottawa Mental Health Centre. Her clinical work is in child psychiatry with adolescents and young adults, and as an Algonquin College governor and chair of the board of governors, has a special connection to students and faculty. 
Beck addressed one of the biggest questions students ask when it comes to their mental health: How do I know when I need help? 
"We've all had anxiety, and we've all had depression, and we've all had more of it in the last two, three years," said Beck, who advised that if feelings of depression or anxiety don't go away on their own and are starting to interfere in our daily lives, it's time to reach out for help. 
Mike Souilliere, the director of patient care services at The Royal's Substance Use and Concurrent Disorders Program, addressed issues around drug and alcohol use. He described substance use as a continuum. While for many people, substance use may not create any issues, as Soulliere describes, "if you have a craving for a substance and you absolutely need it and that craving supersedes other things that you want to do, that could pose a problem for you."
"It's also important to note that when you're moving towards problematic use or potential harmful use, supports are available," said Soulliere.
The final speaker of the afternoon was Dr. Zachary Kaminsky, the DIFD Mach-Gaensslen Chair in Suicide Prevention Research at the University of Ottawa's Institute of Mental Health Research (IMHR) at The Royal. A molecular biologist who specializes in epigenetics (the study of how our behaviors and environment can cause changes that affect the way our genes work), his research focuses on the biological reasons behind mood disorders and suicidal thinking. 
While Kaminsky's goal is ultimately to develop a tool that could indicate if someone was at elevated risk of suicide, as he said: "It's not just about finding who's at risk, but it's about understanding that suicide and mental illness is an illness like any other that requires and deserves help."
A lively panel discussion moderated by Keyes capped off the afternoon. All three mental health experts shared universal mental health advice that extends far past the student experience: connection is key, reach out for help as soon as you think you need it, and let's keep talking about mental health.