The Royal's Operational Stress Injury (OSI) clinic celebrated a milestone anniversary with an open house on September 17. Staff, friends, and other honoured guests gathered together in the sunny OSI clinic to acknowledge a decade of helping veterans as well as active members of the Canadian Forces and the RCMP on their road to recovery.   
A lot has happened at the clinic in the past ten years. 
"It's grown in terms of how many clients that we serve right now – that has expanded – and the locations have expanded. It's easier for clients and families to reach out and be seen and get help," said Dr. Jakov Shlik, the clinical director of the OSI clinic at The Royal. "We've had an opportunity to work on, develop, and implement, clinical care services, participate in research, and contribute to education and training."
Shelley Hale, director of OSI clinic, said they've tripled their team since the clinic opened ten years ago. 
"I feel very fortunate to have been here and to do the work that we do," said Hale. "We've been able to really sink our teeth into it and lead within the (National Clinic of OSI Networks) and within our community as we're helping other populations outside of our own."
The OSI clinic is fully funded by Veterans Affairs Canada. This year there are approximately 630 registered clients.
"Canada's veterans are vital contributors to every community in Canada. After giving the ultimate in public service in their military or police careers they go on to contribute to other areas of civilian life." 
A "typical" client at the OSI clinic is male, 47-years of age, married, and a veteran who was deployed twice and served in the Canadian Armed Forces for almost 20 years. He likely participated in peacekeeping missions, although the number of clients that served in Afghanistan are increasing. He's likely been diagnosed with Post-Traumatic Stress Disorder (PTSD) and Major Depressive Disorder (MDD) and will receive treatment for approximately 10.5 months. He will leave the clinic having met his treatment goals and feel that he's done the work needed and can carry it over in his day-to-day life.
The Royal's president and CEO, Joanne Bezzubetz, was on hand to congratulate staff – past and present – for their accomplishments, dedication, and skill they bring to work every day. 
The work of the OSI team does not stop at the clinic doors. 
"When we talk about the future of The Royal we talk about the concept of a hospital without walls and about creating mental health care that meets people where they are," said Bezzubetz. "The OSI clinic embodies this vision by using telemedicine and satellite clinics to reach clients well beyond Ottawa." 
Of course, the last decade is defined by technology and web applications and the OSI clinic is no exception. In 2013, they created and launched OSI Connect, a mobile app to help clients and families learn about OSIs and to access support. 
Lisa Campbell, the associate deputy minister of Veteran's Affairs Canada, was also on hand to join this milestone celebration. 
"Canada's veterans are vital contributors to every community in Canada. After giving the ultimate in public service in their military or police careers they go on to contribute to other areas of civilian life," she said. 
Campbell pointed out that 1 in 57 Canadians are veterans. "They are our soccer coaches and teachers. They really are a huge part of the fabric of Canadian life." 
"As we mark this tenth anniversary I also want to take the opportunity to highlight the excellent work of all the clinic's staff over the years and for their quality care and dedication towards the well-being of veterans and their families," she said.
Campbell presented The Royal with a special plaque during the anniversary event. Original staff members were gifted with a commemorative medallion in recognition of 10 years of dedicated service. 
Jo Ann Uline was one of the original staff members when the clinic first opened and has fond memories of those early days: "It was amazing, it was a brand new adventure."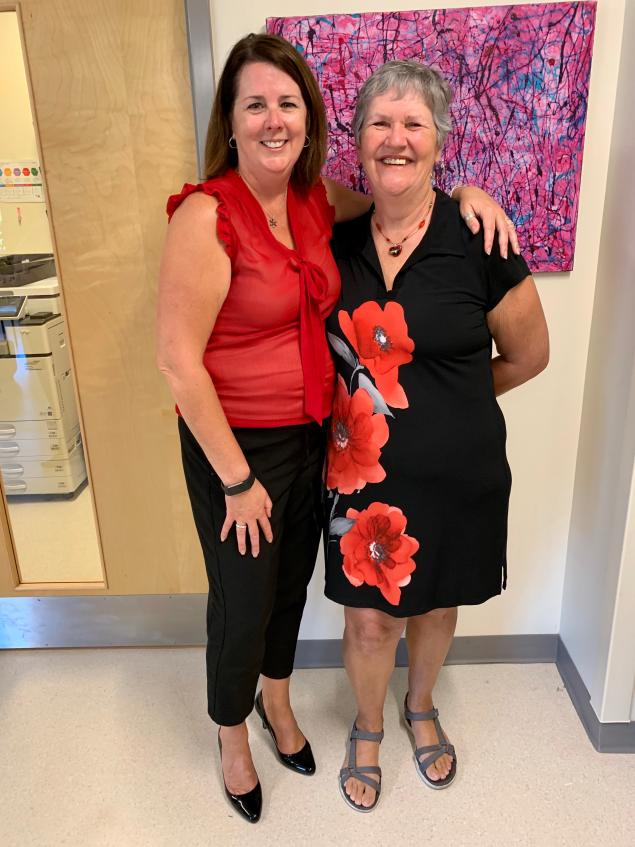 When she retired five years ago the clinic had just hit the 1000th referral mark.  The next five years saw 2,000 more. 
Uline believes the rise in referrals speak to the fact the message is getting out there, but also the need for these specialized services. 
She wants people to know the clinic is not a scary place. 
"Just open the door and come," said Uline. "It's a safe place here and our priority is always about the person coming through that door."
"There's no judgement. We are here for you."