A striking carving of a polar bear was unveiled at the Royal Ottawa Mental Health Centre. It is hoped that the new artwork will help create a welcoming space for everyone, especially members of the Inuit community.
Playing Bear speaks of courage, resilience, beauty, and wonder. The carving also "serves as a reminder of the role of The Royal's ongoing commitment to advance Truth and Reconciliation while actively contributing to the healing of hearts, minds and spirits that have been harmed as a result of colonial violence and dispossession," said Beth Robertson, the equity, diversity, and inclusion specialist at The Royal at the official unveiling on September 28. 
"This significant art piece is one step of many that we hope will support us on our journey to provide an inclusive environment for all."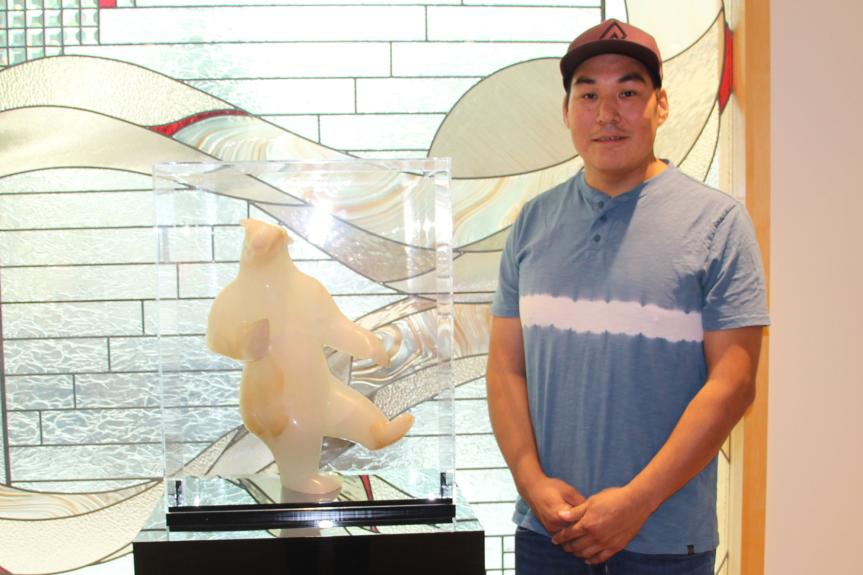 Created by Inuit artist Koomuatuk "Kuzy" Curley, the carving is made of alabaster, a white stone widely admired for its translucent quality. The carving is smooth and shiny, almost to the point of glowing as it captures and reflects the light around it. 
The bear stands upright on one foot, assuming a graceful and playful pose. 
"That's what bears do," described Curley. "They're very social animals, very smart, very intelligent. You can see grizzly bears do similar things but there's something about polar bears that is very magical."
Curley is a third generation carver from Kinngait (Cape Dorset), Nunavut, who learned to carve from his grandparents. 
"I grew up going in and out of my grandparent's cabin an hour and a half away from Kinngait," recalled Curley. "Every time I'd go to my grandparent's camp my grandfather was carving outside. Ever since I can remember, I knew him as a carver. By the time I was 10, 11 years old, I thought I could be carving like my grandpa."
Curley, now almost 40, is known for creations and collaborations which vary in both size and material. Some of his past works include: an 11-foot tall Inukshuk outside the Canadian Embassy in New Delhi, India; a 26-ton granite sculpture titled Ahqahizu installed on York University campus in Toronto; and a statue installed at the airport in Kinngait, which pays tribute to his great-grandmother, Pitseolak Ashoona, one of the community's earliest artists.
Curley, who lives in Ottawa, says carving is good for his mental health.
"It's stress relief," he describes. "We work with our hands, our hands need to carve. After not carving for a while I start to feel a little bit of stress. My hands are aching, they want to work. So when I work, it just completely puts me stress free and just focusing on the piece of art."
Playing Bear is on permanent display in the spiritual and cultural care centre at the Royal Ottawa Mental Health Centre. 
"I hope that people who see it will appreciate it – especially Inuit. I hope it makes them feel at home," said Curley.
For more information about The Royal's spiritual and cultural care services, click here.
For more information about Koomuatuk "Kuzy" Curley and his work, click here.