Many families have their own traditions around the holidays, such as special meals, baking, and giving gifts. For Bernie Eischen, the holiday season includes volunteering at The Royal's annual Christmas tree sale. 
Eischen, a retired lawyer and long-time volunteer, first got involved with the event almost 15 years ago. Since then, she's brought her close friends and family on board – even the grandchildren – to volunteer as a multigenerational group for one day of the sale. 
"It feels good to give back and it's nice when the kids learn to do things for other people," says Eischen. "It's just a good feeling! It really is fun selling Christmas trees."
Annmarie Nicholson, director of volunteer services at The Royal, says most tree sale volunteers return every year. 
"I think that's one of the nicest aspects of it for me, just welcoming back our volunteers who have made this event part of their family or friend group's holiday tradition," says Nicholson.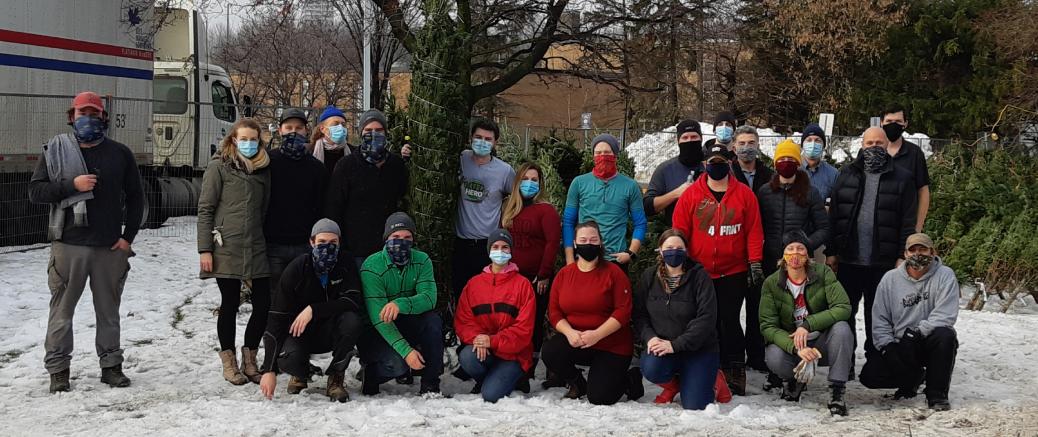 The tree sale is powered entirely by volunteers, who take care of everything from the planning and set-up, to scheduling, selling, and clean up. 
Funds raised from the tree sale go toward client and family centered care at The Royal, such as groceries for cooking groups, equipment for recreational activities, recreational outings, and adult educational materials. 
Spearheaded by The Royal's volunteer association, the tree sale represents a major fundraiser for the organization. The association typically raises approximately $150,000 annually through various events and social enterprises but almost everything was put on hold during the pandemic.  
This year's tree sale begins November 27 at noon and ends when all the trees are sold (or December 19, whichever comes first) but if last year is any indication, there may not be enough trees to meet demand.  
In 2020, Nicholson and her team sold out in record time and raised over $55,000. She says many shoppers purchased their trees earlier than usual because they wanted to brighten up the season during lockdown, and some Ottawa families who couldn't travel set up trees for the first time at home. 
"It was an absolute banner year, I've never seen anything like it," she recalls. "It was an exciting thing to be a part of and also terrifying," she laughs. "It just moved so fast."
The tree sale couldn't happen without incredibly committed community partners, who generously donate services and equipment that are vital to the success of the event.
"EllisDon, Taggart Construction, and Site Preparation Limited are angels who make this event possible every year," says Nicholson, who sends a special shout-out to P&G Contracting, who saved the sale last year with a last-minute loan of a trailer, and the Canada Agriculture and Food Museum, who donated seven bales of straw to cover a muddy, trampled lot after an unexpected bought of warm weather.
Nicholson is grateful for Ottawa's commitment and generosity and looks forward to welcoming the community back for what promises to be another record-breaking year for The Royal's Christmas tree sale.
 "The same things that draw people back to volunteer are the same things that draw people back every year to buy our trees," says Nicholson. "It's just such a heartwarming, wonderful, hopeful event."
The Royal's 36th annual Christmas tree sale begins on November 27.  Click here for sale hours and additional details.