Support from TD will help The Royal's Prompt Care Clinic – a service fully funded by philanthropy – to provide fast and simple access to mental health care over the next five years
OTTAWA, September 20, 2023 - TD Bank Group (TD) has donated $1M to the Royal Ottawa Health Care Group (The Royal) to support the Prompt Care Clinic, a community-based pilot program that provides rapid, low barrier access to specialized mental health services. 
The Royal's Prompt Care Clinic serves individuals experiencing moderate symptoms of mental health issues – a group who otherwise would have limited or no options for specialized mental health treatment unless their symptoms worsen. The clinic augments primary care services and helps to alleviate the burden on Emergency Rooms by providing the right level of support to these individuals in their moment of need, helping to avert potential crises and establish a path towards recovery.
"The Prompt Care Clinic is a lifeline for individuals in our community who are living with mental illness. More than half of our clients are people who had no prior contact with mental health services; in our clinic they get the opportunity to receive specialized mental health care," said Dr. Susan Okigbo, Clinical Director of the Community Mental Health Program at The Royal. "This unique clinic fulfills an important and previously unmet need in Ottawa by providing services for individuals who briefly require more support than their primary care provider can offer, but do not require intensive treatment or emergency care." 
The Prompt Care Clinic is a pilot project completely funded by philanthropy.  With donations from the Ottawa community, the clinic has been able to provide service to over 2,500 clients in its first two years (January 2021 to February 2023), which was double the anticipated demand.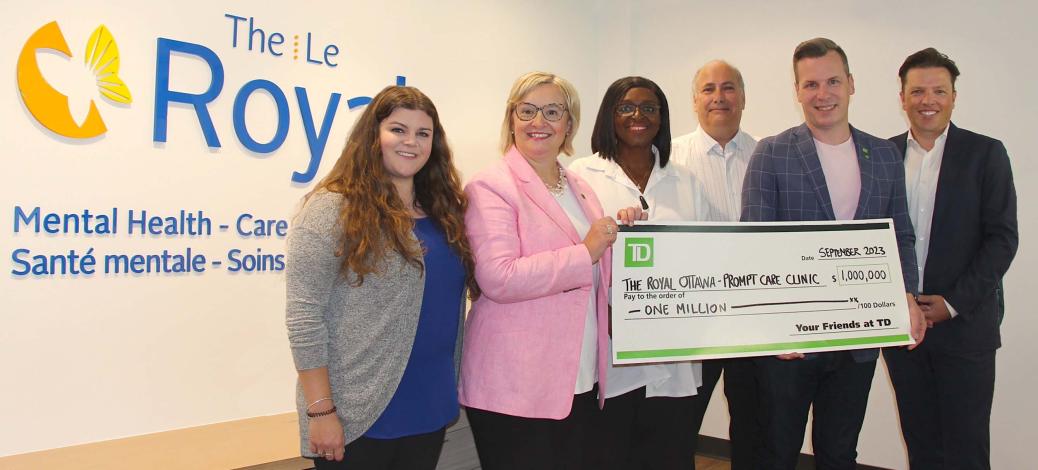 Today's $1M donation from TD will help The Royal to continue offering this important service for the next five years in a newly opened clinic space at City Centre in Ottawa.
"When people feel confident about their health, they feel better about their future. Through the TD Ready Commitment, our corporate citizenship platform, we aspire to create more equitable access to healthcare by supporting innovative research, solutions and technology," said Tara-Lynn Hughes, Senior Vice President, Greater Ontario Region, TD. "That's why we're so proud to support the community of Ottawa through The Royal's Prompt Care Clinic, and help an underserved population receive access to mental health care."
The Prompt Care Clinic plays an important role within the continuum of mental health care in the Ottawa region by providing timely access to specialized care for adults between the ages of 18 and 65 who are experiencing symptoms of mild to moderate mental health disorders. Approximately 500 of the referrals to the Prompt Clinic over the past two years have been for youth aged 18 to 24, a time of particular vulnerability to mental illness.
In addition to providing life-changing care to patients, the Prompt Care Clinic also builds the capacity of Ottawa's primary care providers through increased access to community mental health services, and a collaborative approach that provides both direct support for clients and knowledge sharing among clinicians.
"Demand for the Prompt Care Clinic continues to exceed expectations, demonstrating a growing need for these specialized mental health services. TD is responding to this need in a big way; with their visionary support, we are one step closer to raising the funds needed to operate this important clinic over the next five years and provide easy-to-access mental health care to an expected additional 7,000 clients," said Chris Ide, President of the Royal Ottawa Foundation for Mental Health. "TD's leadership and their dedication to the health of our community is truly inspiring."
About The Royal
The Royal is one of Canada's foremost mental health care, teaching, and research hospitals and is home to the Royal Ottawa Mental Health Centre, the Brockville Mental Health Centre, the University of Ottawa Institute of Mental Health and the Royal Ottawa Foundation for Mental Health. Our purpose is to expand access, hope and new possibilities for people with mental health and substance use health needs through the convergence of client and family-oriented care, science, education and lived expertise. Click here to learn more about The Royal, our services, and our impact.
-30-
Media Contacts: 
Karen Monaghan, Director of Communications
The Royal
karen.monaghan@theroyal.ca
613-868-3740