Sometimes the smallest act of kindness can have the biggest impact: That's the idea behind The Royal's "smile buttons," custom-made pin-back and magnetic badges that many staff members will be wearing at work in the weeks and months to come.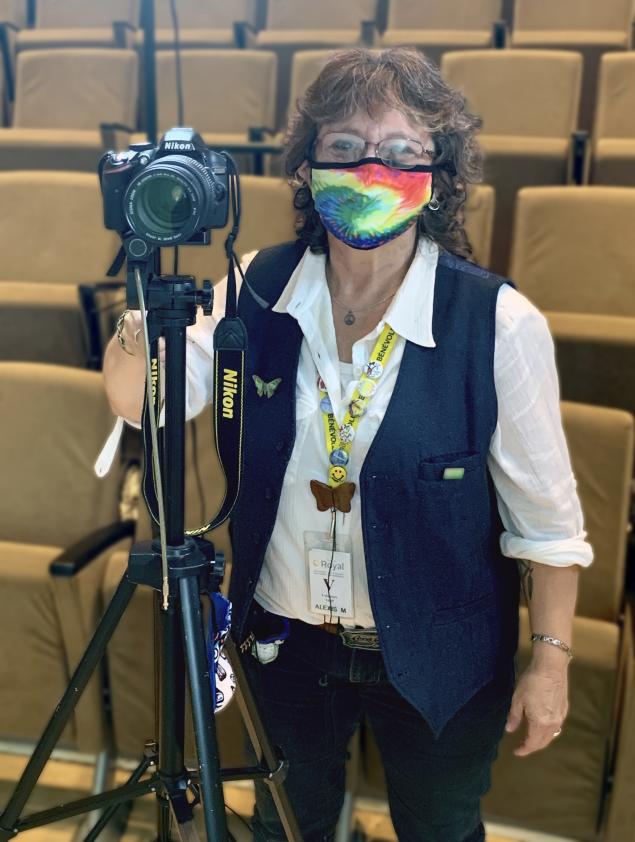 The buttons feature a photograph of the wearer without a mask and sporting a big smile. The hope is that the buttons will reassure clients and remind them there's a caring smile behind the mask.  
"Masks are very off-putting – and we know they're necessary – but we also know the value of a smile and how just receiving a smile from someone can make your day," says Glenda O'Hara, chair of the Client Advisory Council. "These days a lot of people don't see a lot of smiles, and they might not have a lot to smile about."   
The idea for the smile buttons has been spreading between health care providers over the past few months. O'Hara spotted a Facebook photo of a front line health care worker at Sick Kids in Toronto wearing one, and thought it'd be a fitting initiative to introduce at The Royal. By happy coincidence, another member of the Client Advisory Council, Alexis Milne, had the experience and equipment needed to make it happen.
Milne has been snapping staff portraits (from a safe distance of course) and using them to make the custom smile buttons. Many staff have also been sending in smiling selfies for their buttons.
The initiative is funded by the Morale Boosters, a group that was formed in March 2020 to bring good cheer to staff and clients across all campuses of The Royal. The group includes staff from different campuses and programs, as well as the Foundation. Volunteers, clients, and families are also represented.  
Although it's still early days, feedback from staff has been overwhelmingly positive. 
Jacqueline Desrochers, manager of client & family relations, calls the smile button a "win-win" idea that fosters engagement and connection, and not just for clients. Button production gives volunteers like Milne and O'Hara an opportunity to stay involved and give back. Funnily enough, staff have realized the buttons help them recognize each other as well, especially when encountering colleagues they haven't seen in person for awhile.    
"I'm even tempted to wear it at the grocery store!" laughs Desrochers. "I pass people all the time with my mask on when I'm out and about. Obviously in a service industry like ours it's nice to have, but it's something we could think about for the community too."
"We need smiles right now; we need to keep that alive, and not forget."