Image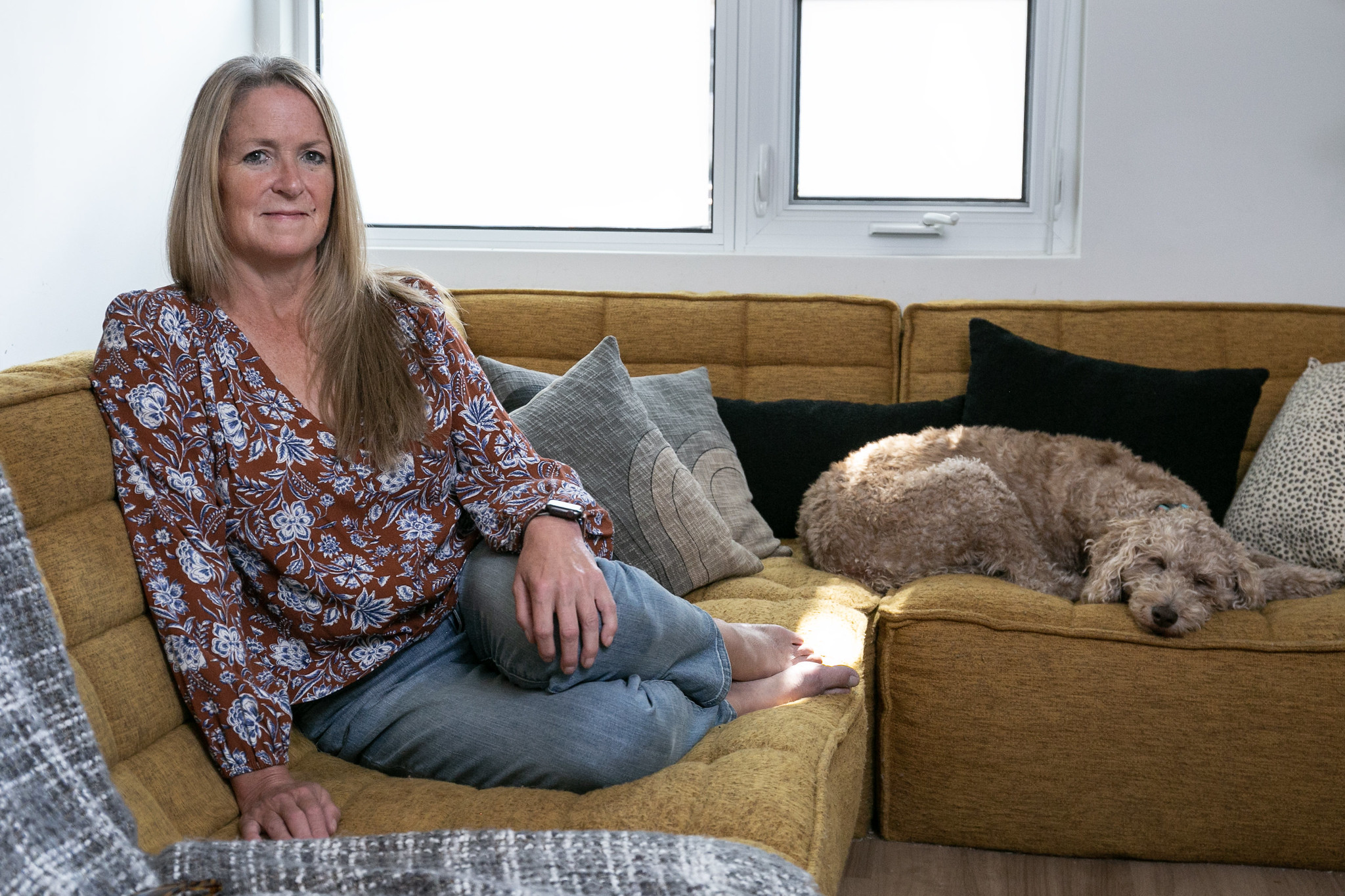 Meet Marion — a survivor and a fighter whose story highlights the life-changing power of research at The Royal. 
Marion, a former nurse, has lived with depression her entire life. "My mental health story started a long, long, long time ago," she recalls. 
Her parents had mental health conditions — her father's diagnosis came after his retirement, and her mother was never officially diagnosed. 
In primary school, Marion says she wasn't like the other children and described herself as "sad and anxious." 
"I remember distinctly — even in my grade two classroom — sitting in a circle thinking there's something wrong with me. There were these kids, and they're all normal, and they had normal families, normal lives, and there's Marion, who's not."
Marion didn't receive an official diagnosis until her early 30s. At that time, she worked as a cardiac nurse at an Ottawa hospital. Job-related stress added to personal struggles and eventually led to a breakdown, which left her hospitalized. 
It took two years to find a medication that worked, a time Marion describes as desperate and exhausting. 
Did you know that one-third of people receiving treatment for depression have not seen improvement despite multiple treatments? One of the challenges of mental health treatment is finding a medication that works and has minimal side effects. Unwanted reactions can include weight gain, insomnia, nausea, or fatigue, which can have a negative impact on quality of life and adherence to a treatment plan. 
Marion eventually found a medication that struck the right balance. 
"It was not a silver bullet by any stretch of the imagination, but I was better than I was, and I was okay," describes Marion. "I was good with that. I was much more functional." 
She "held steady" with medication and therapy until a second mental health crisis in early 2019. A series of tragedies in her personal life led to another hospitalization.
"It took a month to patch me back together," says Marion.  
This time, when she was discharged, she was offered a referral to The Royal.
Marion's treatment at The Royal involved esketamine, a form of ketamine widely used as an anesthetic for decades. Thanks to pioneering research from The Royal, it is emerging as an effective treatment for depression.
This innovative research is made possible by caring donors like you. That's why we're excited to announce that if you join our "Partners in Hope" monthly giving program right now, an anonymous donor will match your monthly donations for an entire year – up to $25,000! This is an opportunity you don't want to miss.  
If you act now, your generosity will help twice as many people find treatments that work for them through research at The Royal. Just like how eskatamine worked for Marion! 
Esketamine, administered as a nasal spray under medical supervision, was approved by Health Canada for the treatment of depression in 2020. It targets specific pathways in the brain and increases the brain's ability to make new connections that can support recovery from depression, rapidly reducing depressive symptoms and thoughts of suicide in clients who have failed to respond to other commonly prescribed medications. 
"The discovery of ketamine's antidepressant effects has been hailed as one of the biggest breakthroughs in the field of depression in the past half-century," says Dr. Jennifer Phillips, interim scientific director at The Royal.
"Research has shown us that esketamine is working for more patients with depression than conventional medications and working much faster. So people who haven't responded to other treatments, sometimes for several years, might respond to this treatment," says Phillips.
As a teaching and research hospital, The Royal is able to integrate research directly into the provision of care. Not only does this lead to better outcomes for clients, but it also creates an environment that helps researchers answer some big questions about esketamine.
"Esketamine is still new — we're translating it from clinical trials in a research setting into regular care," says Phillips. "We want to know: Who does this work best for? How can we use this medication to maximize and prolong its effects? And how do we use it together with existing therapies that we might use for depression?"
Marion's treatment began in May 2022 and ended in January 2023. Marion says that while her other medications have kept her stable, adding esketamine to her treatment plan was the missing piece of the puzzle.
"The way my brain processes things has absolutely changed," says Marion. She no longer thinks of herself as simply managing — she has her life back. "I never would have imagined that I could be as well as I am today."
The stigma often associated with mental illness is the main reason why Marion speaks publicly about her experience. 
"The number one way to address the stigma is just to keep talking about it," says Marion. "It's something that gains steam over time, like a snowball rolling down a hill."
Through your support, The Royal can offer ground-breaking treatments like esketamine therapy that empower individuals like Marion to rewrite their stories. Marion's experience is a testament to the incredible potential that lies within each person to rise above their challenges, reclaim their lives, and thrive.
However, we can't do this alone. Your help is needed to make a difference in the lives of those who need a second chance. With your gift, you can be a part of transforming despair into hope.
And remember, if you join our "Partners in Hope" monthly giving program right now, an anonymous donor will match your monthly donations, up to $25,000, for an entire year! This means your monthly gift has the potential to be twice as impactful at no additional cost to you.
Your generosity can help us provide cutting-edge treatments, compassionate care, and a haven for individuals seeking solace and healing. Together, we can shatter the stigma surrounding mental health and pave the way for a brighter future.
If you're not ready to commit to a monthly contribution, please consider making a special one-time donation to fund impactful research and patient programs. Any amount you give can tremendously impact someone's life, like Marion's. 
The journey to recovery can be a long and winding road. With your support, The Royal can ensure that those who walk this path do not have to do so alone.
Every dollar you donate will provide life-changing services at The Royal. Your support will help us ensure more individuals get the timely care they need without the stigma.
Thank you for believing in the power of transformation and standing with us in the fight for better mental health.